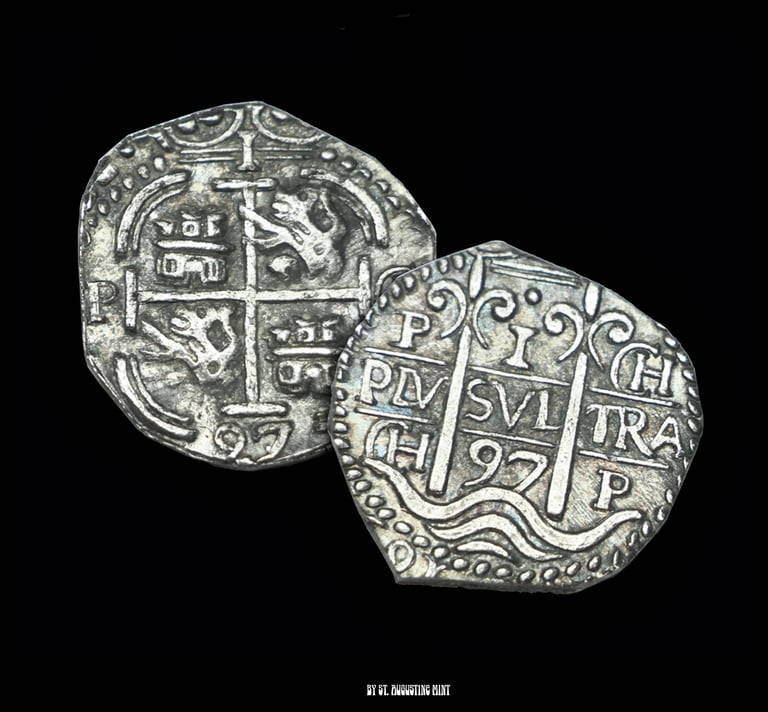 Potosi Mint: 1697 "CH" 1 Real Spanish Treasure Cob
Potosi Mint, 1697 1 Reale "CH" Silver Hammer Struck Treasure Cob Replica.
3.4 grams
Traditional weight.
Hand sunk dies, and hammer struck coins.
Cut from a true poured silver strap like the originals and cut with traditional shears.
These coins vary in shape and strike. So please allow for some variance.
Also available in Gold in 3.4 grams, (Escudo) or 6.8 grams (2 Escudos / Doubloon). Since the mint at Potosi never struck any gold cob coinage, this is a fun & unique way to create a fantasy issue based on the Potosi pillars design. Like the silver cobs, these coins are struck with some crudeness for authenticity. But due to the density of gold, keep in mind that the overall diameter of the gold strikes will be smaller than that of silver. This is why we only offer these in 22K. However if you wish for a 24K strike, you can create your own custom coin with a custom weight ( example: a coin of 5 grams in 24k) - as it applies to all our pieces. Just send an an email.
BEST DEAL
Stack of 8 Coins, struck traditionally in 3.4 grams of .999 Silver. No aged appearance, no modern sharp strike. These coins are struck traditionally, and are a bit cruder than the modern strike we offer. This deal ends September 22nd.
This Spanish Colonial Cob replica is based on the 1697 1 Reale cob from rare temporary assayer Sebastian de Chavarria, who's assayer mark is an unmistakable monogramed "CH". His tenure was 1 year only, thus the real coinage is rare and highly sought.
All replica coins come with a discreet custom copy mark.
©2016 Saint Augustine Mint.
These images are NOT for use on other websites without permission.