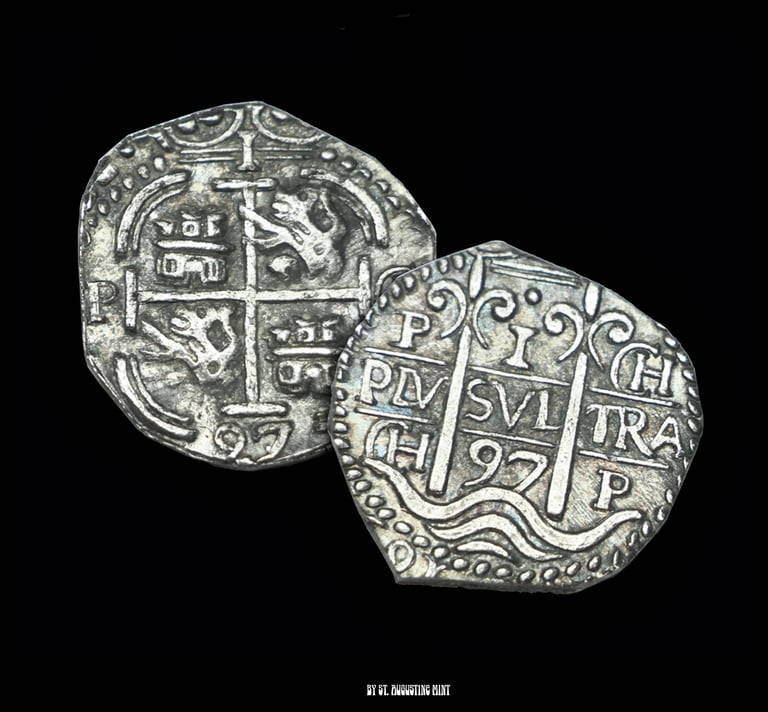 Potosi Mint: 1697 "CH" 1 Real Spanish Treasure Cob
Potosi Mint, 1697 1 Reale "CH" Silver Hammer Struck Treasure Cob Replica.
3.4 grams
Traditional weight.
Hand sunk dies, and hammer struck coins.
Cut from a true poured silver strap like the originals and cut with traditional shears.
These coins vary in shape and strike. So please allow for some variance.
BEST DEAL
Stack of 8 Coins, struck traditionally in 3.4 grams of .999 Silver. No aged appearance, no modern sharp strike. These coins are struck traditionally, and are a bit cruder than the modern strike we offer. This deal ends September 22nd 2022.
This Spanish Colonial Cob replica is based on the 1697 1 Real cob from rare temporary assayer Sebastian de Chavarria, who's assayer mark is an unmistakable monogramed "CH". His tenure was 1 year only, thus the real coinage is rare and highly sought.
All replica coins come with a discreet custom copy mark.

Please keep in mind as we are only open once a week, therefor we only ship once a week. These coins are made to order so also please allow for it. We will ship as quickly as possible. Thank you so much for your patience.
©2016 Saint Augustine Mint.
These images are NOT for use on other websites without permission.