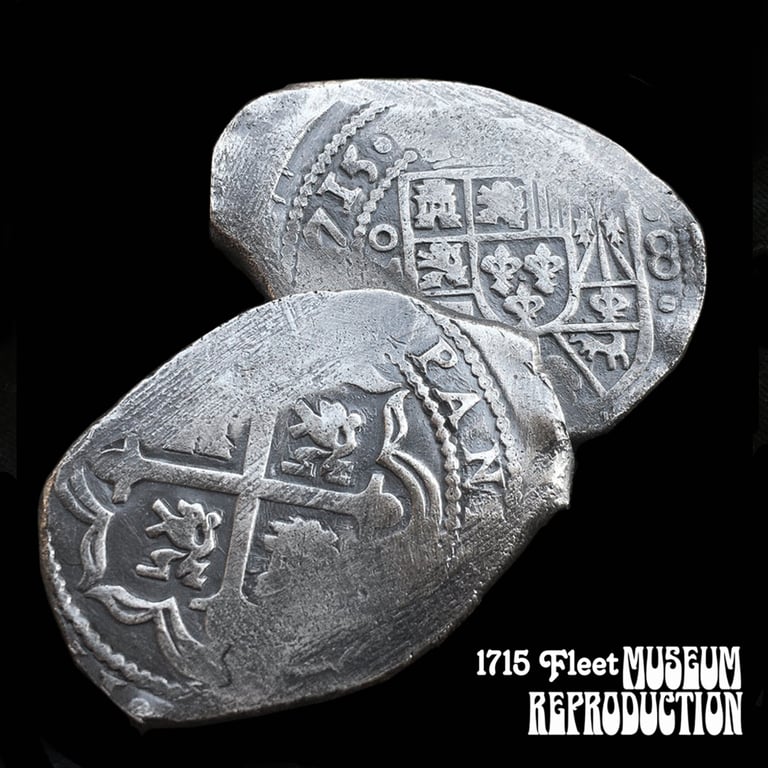 1715 Fleet: Mexico 8 Reales, dated 1715.
Mexico City Mint, 1715 8 Reales "J", Philip V Spanish colonial reproduction cob.
A replica that looks so authentic, that those who have always dreamed of owning the rare key date cob, can now own a reproduction that looks and feels exactly like the real thing. We are extremely proud to offer this. And we know you will absolutely love them, as a lot of time and painstaking effort went into every single detail in their production.
You are buying the only modern reproduction Mexico mint, 1715 8 Reales (Neat Style) assayer J, Philip V, in existence ever made. This artisan reproduction is struck on planchettes prepared identically as the originals were. Meaning that no two coins are ever the same in shape, size or strike. Just like true cobs. These are awesome for jewelry, presentations, museums, gap fillers, displays and so on and so forth. unlike cast copies. The coins you buy from us will be unique to only you.
Hammer Struck, from our original reproduction dies in .999 silver.

Please keep in mind as we are only open once a week, therefor we only ship once a week. These coins are made to order so also please allow for it. We will ship as quickly as possible. Thank you so much for your patience.